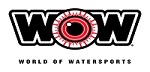 H2O PROOF DRYBAG MODEL 20L
11-1/2"Dia. x 16"L - CLEAR

Versatile and durable, your gear will stay dry inside these round bottom dry bags. Shut out water by rolling down the top 3 to 5 times and lock the release buckle on the top of the bag.

Comes complete with an adjustable shoulder strap. Made from 500D PVC tarpaulin.