Viking RescYou Pro-Container-4 Person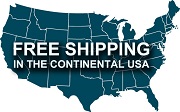 The ultimate liferaft for all types of cruising and sportfishing.
This is the top of the line liferaft. The automatic self righting function ensures

CALL FOR DETAILS...........(856) 768-8102
the liferaft is immediately ready for boarding. In addition to its many advanced
features, it offers generous space and headroom.
The curtained windows provide an excellent view of the
horizon without the need to open the canopy. The double
blue canopy liner and inflatable double floor provide
protection for hypothermia. The raft is ISO 9650-1 certified
and meets ISFA requirements.
Mounting cradle is optional. Comes complete with exterior strobe
light and interior light, safety equipment and SOLAS flares.
SIZE packed: 31"H.x 16"W.x 14"H.
WEIGHT: 75 lbs.
Shipped Motor Freight (Truck) to a commercial address. CALL FOR CHARGES. (856) 768-8102