Premium Double Braid Nylon Dock Lines - BLACK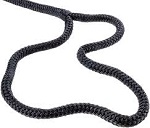 Spliced Nylon Mooring and Dock Lines

Rot and abrasion resistant. Hand spliced eye is stronger than a knot. Resistant to damage by oil, grease, gasoline, mildew and most chemicals. Two ropes combined into one premium line with shock absorbing elasticity superior to twisted lines. All dock lines up to and including 5/8" have a 15" eye splice. The 3/4" lines have an 24" eye splice. Color: Black

Actual weights vary. Correct shipping will be charged on your order.