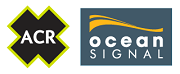 ACR®
Float ™-On
Combination Flashlight and Emergency Locator Strobe light

Manual off and on button or water activated

Power is USB rechargeable

LED flashlight

Size: 3.26"H. x 1.30"D.

700 m/AH Lithum-Ion battery included

Comes with USB charging cord and lanyard with clip

Waterproof and Bouyant


Strobe is visible to 3 miles. Waterproof to depths of 328ft (100m).). High impact ABS case.